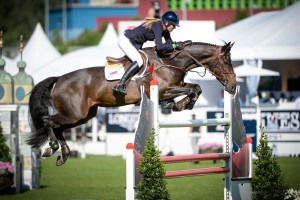 The world of Show Jumping has always been synonymous with elegance, the sense of occasion and thrilling sport. Yet the sport today is a far cry from the days when the venues were a field in the Home Counties offering a beer tent and burger van. Today the sport attracts the offspring of rock stars, royalty and billionaires: Athina Onassis, Sofia Abramovich, Jessica Springsteen, Charlotte Casiraghi. Horses are bought and sold for millions and travel on "palaces on wheels"- custom built wagons worth £500,000. A home from home for riders  travelling from one glamorous show venue to another- Monaco, Shanghai, Paris, Hong Kong, Chantilly.
Ownership of Show Jumping horses and sponsorship of riders attracts both wealthy individuals and syndicates and also corporations including global giants like H&M, Gucci and Sony Ericsson. In 2014 British owners possessed the world's top two Show Jumpers.
The Global Champions Tour is another example of how Show Jumping is rivalling the Formula One model in terms of prestige and location. The championship which takes place in 14 stunning city attracts the best riders with its $12 million prize fund and appeal for owners; the London event was held at Horse Guards Parade last year.
Lillybrook Showjumping EIS Case Study
For those interested in the opportunity to be involved in this glamorous arena together with the potential for financial returns Lillybrook Showjumping Limited (LSL) is one such opportunity which provides a number of potential benefits for Investors including tax reliefs under the UK Enterprise Investment Scheme (EIS) for eligible Investors.
The rider behind the scheme is regarded as one of the most exciting talents in the sport right now. Jessica Mendoza made her first appearance on a British senior a team at this year's European Championships and helped the British team secure a place at the Olympics next year. Selectors believe that with the right horse power it is well within her abilities to make it to Rio. For investors there is the potential not only to invest in a horse that might give you the thrill of owning a Championship or Olympic level horse but also to make significant returns. The investment is asset backed by actual horses in the portfolio. The investor benefits from huge training and development experience and skills of Jessica. A well trained and developed horse through competition should substantially increase in value and with a high profile rider on board this adds further gravitas. Investors can invest into the EIS from £10,000 with an anticipated mean return of 1.30 but aside from financial return they will be closely aligned with Jessica and the team and will participate in events on the global playing field.
Paul Mendoza who speaks for Team Mendoza and LSL explains "Just like football, the big profits are made by the people who can spot the talent early and deliver it. At Team Mendoza, we'll be doing just that in the run up to Rio. Then the cycle starts all over again as horses perform in Nations Cups, World and European Championships"
We are seeking investors for Jessica Mendoza's Lillybrook Showjumping EIS offer. For more information please contact:
Tony Davis: tony@mountainconsulting.co.uk
Source: Elenore Kelly